CHILDREN'S CHRISTMAS PARTY DEC. 18, 2016
PALM SUNDAY
& BAKE SALE
April 24, 2016
EASTER 2016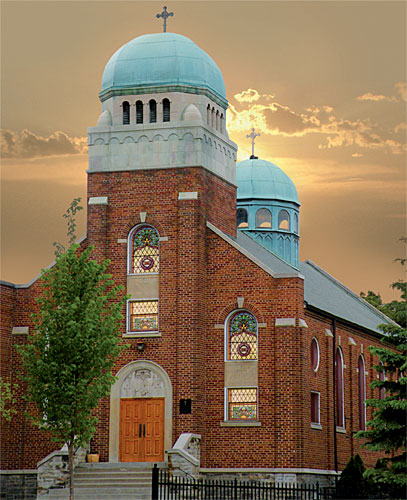 1910 – 2015
PROUD OF OUR 105 YEAR HISTORY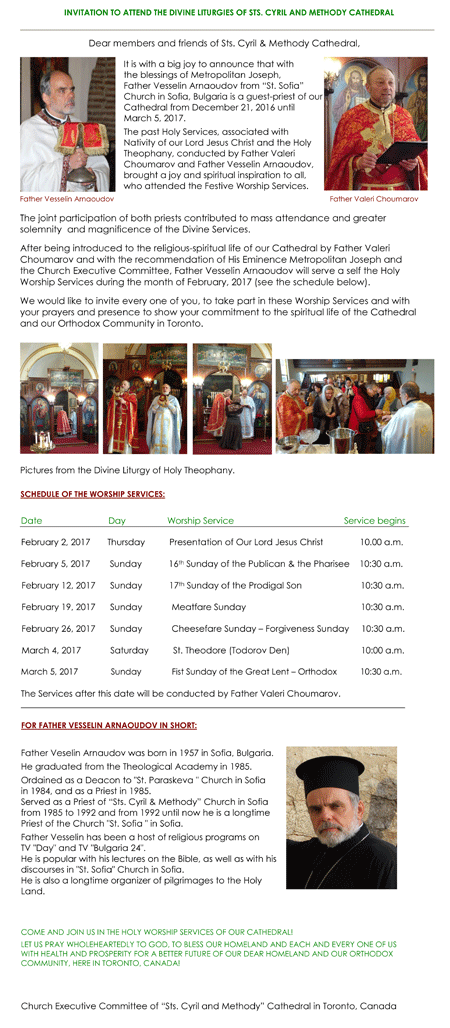 PRESBYTERA ZLATKA POPOV
Memorial Service – 2 years since her passing
Sunday, July 24, 2016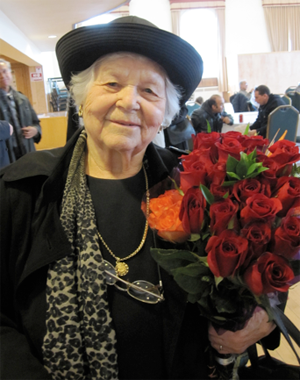 April 6, 1921 – July 7, 2014
Presbytera Zlatka Popov was born in the village of Gilyovtsi in the Municipality of Pomorie on April 6, 1921. In 1938 she married Father Dimitar Popov, one of our much loved and venerated Parish Priest from 1974 to 1993.
Since that time she became a beloved and respected Popadia of the following churches:

St. Demetrius Church in Elhovo, Bulgaria from 1939 to 1941
Ivan Rilski Church in Bourgas, Bulgaria from 1941 to 1968
St. Petka Church in Adelaide, Australia from 1968 to 1974
Sts. Cyril & Methody Cathedral in Toronto, Canada from 1974 to the end of her life in 2014
Presbytera Zlatka is greatly missed by all, who knew her. Her love for the Lord and His faithful was evident in all that she said and did.
With her wisdom, kindness and expertise, she guided and helped anyone who needed advice and preached the fundamentals of the Christianity.
Now that she has gone to be with the Lord, Presbytera Zlatka has left many of "her children" behind to carry on in her memory all that she taught about our faith, the traditions of the church and Christianity in general.

George Stasoff – faith, loyalty and commitment
As a tradition on Patron's Day Celebration, the Church honors with special appreciation and recognition our longstanding members, who deserve to be called "the living legends of the church."
This year on May 22nd, 2016 we had the privilege to honor Mr. George Stasoff: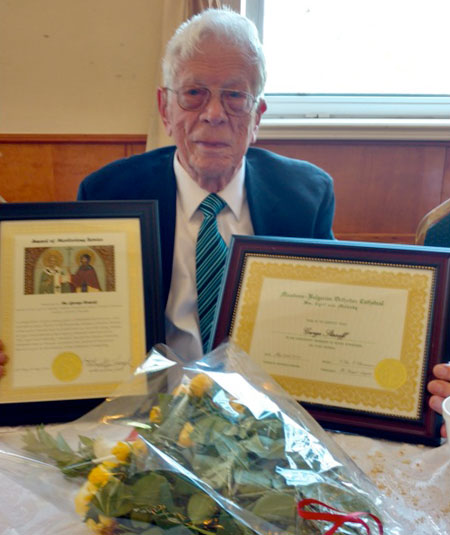 George was born March 7, 1930 in Toronto, first child of Milka and Chris Stasoff. They lived in a house at 667 Dundas Street, a couple of blocks away from the church, in a community of Macedonians, new to the country.
As a youth George and his sisters Helen and Virginia joined other young people at the church, organizing regular dances with the Macedonian orchestra, bowling leagues and other social events.
Good, long time, life friends were made in those years. It was easy to find and keep friends and family close, as the church played an important role as a place where people gathered.
In 1960, George and Gloria were married at St. Cyril & Methody. They baptized their 3 children and raised them in the church, attending Sunday school, language and dance classes.
Two of his 3 children were married here and two of his six grandchildren were baptized here, all at Sts. Cyril & Methody Cathedral.
The church has also been a great source of strength for George during those hard times we all face - saying goodbye to loved ones, when Gloria passed away in 1992 and then his parents and many friends.
George has had a successful career as a car salesman and has brought his keen business knowledge to his work with the church, always willing to help out, wherever he can.
Because of his good personal and organizational qualities, George was repeatedly elected as a President and a member of the Church Executive Committee.
Over the years and to this day, George remains dedicated to St. Cyril and Methody Cathedral.
The church plays a strong role for George, as a place of belonging, a place to renew his spirits, a place to gather and meet friends, old and new, a place to be of service. 
His faith, loyalty and commitment throughout his life are good example to follow.
Thank you, George!
May God grand you health and many more years to come!